This Hawaiian Haystack recipe has been compensated by Collective Bias, Inc. and its advertiser. All opinions are mine alone. #CampbellsShortcutMeals  #CollectiveBias
Last Friday we arrived home after spending amazing weeks in Ecuador. The weekend was much needed to catch up with sleep, grocery shopping at Walmart and conquer a big stack of mail. As I was putting the last suitcase away, I felt we were officially in school season. I mean, the kids' school bell will be ringing in only two weeks!
Being back-to-school means busy schedules and be running from one place to another. Piano lessons, soccer practices, you name it… This is why meal planning is a life saver! It gives us stress-free evenings and saves us time, effort and money. It really helps our home to focused on quality time with familia! (Download a meal plan calendar here in English and Spanish)
During Back-to-School season, I like planning fun, easy and kid-friendly recipes where I can use products like Campbell Soup Company products that are delicious and could save us time in the kitchen. From soups to sauces, and snacks to beverages, for the past 146 years Campbell Soup Company products have been offering great flavor products that fuel our bodies. Don't forget to hover over the photo below to click through to Walmart.com and purchase them!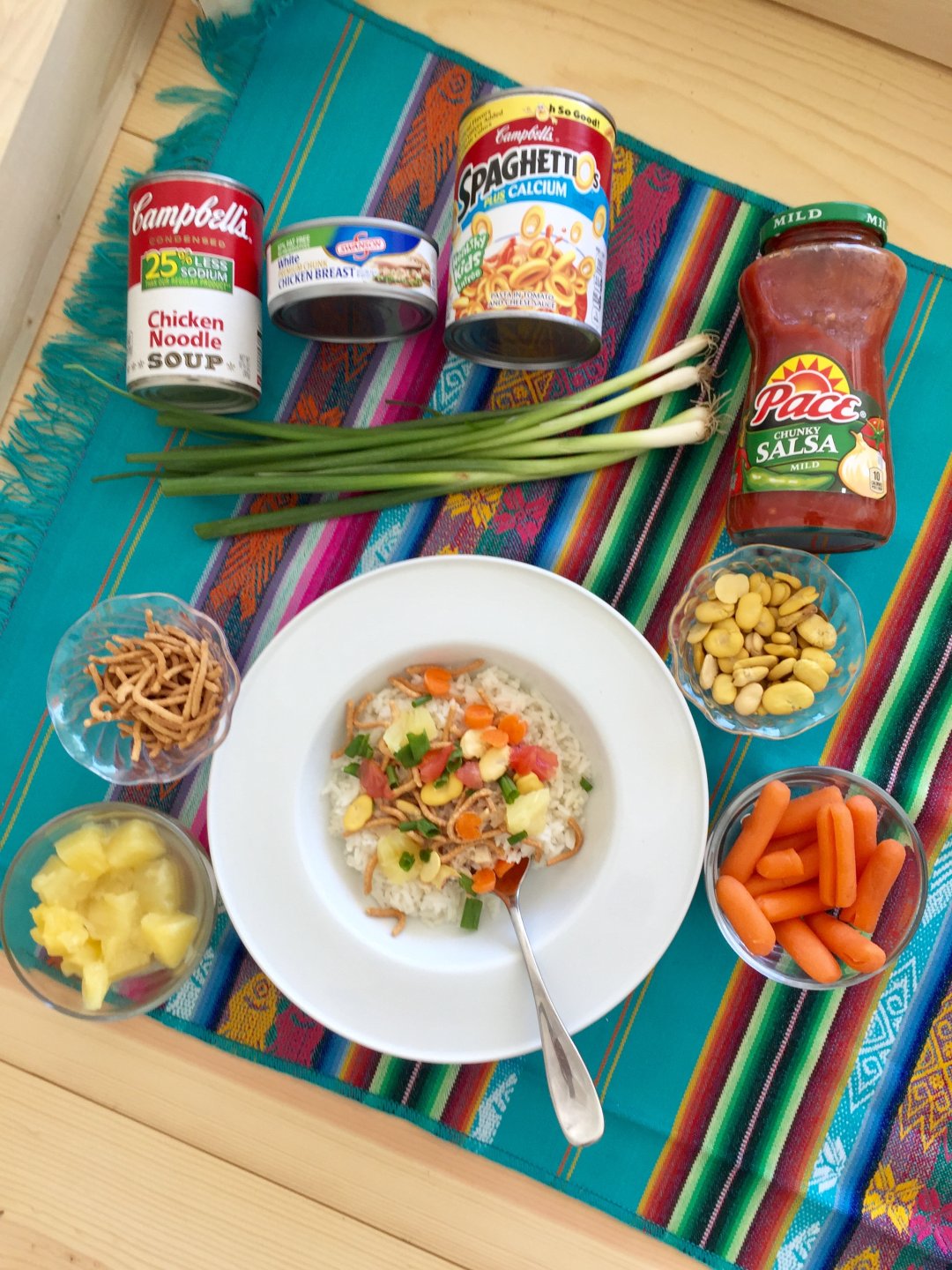 Hawaiian Haystacks Recipe
Hawaiian Haystacks is a favorite at home! This yummy dish allows us to get creative and add our special Latino touch! This meal is super quick and easy to prepare, especially when you only want to spend a few minutes in the kitchen. And it's a great option if you are feeding a crowd!
I also love making Hawaiian Haystacks because everyone in the family can personalize to their tastes depending on what toppings they choose to add. If you have picky eaters like I do, this meal will make them happy. I can pinky promise you that! You only serve the chicken sauce over rice, add toppings and voilá, you have a delicious meal!
What you need
For this recipe that serves 4 people, you only need a few things:
1 cup of rice

1 can of

Swanson®

Premium Chicken

2 cans of

Campbell's®

Condensed

Chicken Noodle Soup

1 cup of cheddar cheese shredded
And the toppings…
For the toppings, the sky is the limit! I usually make sure to add assorted veggies and whatever I find in the pantry. This time I use: tomatoes, crispy chow mein noodles, black olives, carrots, green onions, drained crushed pineapple and green plantains or chifles!! All great options to add texture and some Latino flavor!
Instructions
Cook the rice.
In a small pan, mix

Campbell's®

Condensed

Chicken Noodle Soup with

Swanson®

Premium Chicken. The combination of these two products will bring a mouthwatering flavor your family will love!

Campbell's®

Condensed

Chicken Noodle is a traditional family favorite and loved by kids for generations and

Swanson®

Premium Chicken is low fat, heart healthy and ready to use for quick and everyday meals.

Add salt and pepper as you like. And stir over medium heat for 1 minute.
4. Add the chicken sauce over rice.
5. After placing toppings of choice, add some cheddar cheese shredded.
And… that's it! Super easy, right? Enjoy!
For more quick and fun weeknight meal ideas, Campbell's® SpaghettiOs® pasta is a great choice! With its signature sweet sauce, it's a filling meal that lets parents be a kid, with their kid. You can also add Pace® to add a kick to your snacking and cooking!
Visit the Campbell's Shortcut Meals website and get the coupon to start saving on 8 different Campbell Soup Company products!
What's your favorite Back-To-School meal?
Pin it later:
Title:
Super Easy Hawaiian Haystack
Keywords:
Hawaiian Haystack
Last Updated:
July 18, 2017