This shop has been compensated by Collective Bias, Inc. and its advertiser. All opinions are mine alone. #GoldfishLunchSmiles #CollectiveBias
My kids' favorite part of back-to-school season is to go shopping for their school supplies at Walmart. I think it's fun how they get over the moon about the options of colors and textures for crayons, glue, etc. Their enthusiasm for going back to school is contagious and makes me happy.
On other hand, my favorite part about them being back to school is having a set routine again. After a care-free summer of late movie nights and hiking volcanoes in Ecuador, I crave for routine. As, a matter of fact, I think even the kids do. Amiright!?
My other favorite thing about school season is planning their lunchbox!  Boy, do I put a lot of thought and heart to those lunchboxes! I think a lunchbox it's a fun way to connect with my kids through the school day. I can't tell you how many times my kids have mentioned how the notes inside their lunchbox or the way I have packed their food have made them smile.
Going back to school and re-starting a new routine can be challenging. As moms, we can't control what happens during our child's day.  But I love that through a lunchbox with a personalized note, I could cheer my kids up and remind them that they are loved!
How To Pack a Smile Every Day In Your Kid's Lunch
This school year, you also can start "Packing a Smile Every Day" in your kid's lunches. With Goldfish® crackers, you have many options to spark joy, one smile at a time. For the first day of school, I am planning to send their snacks in an "animal bag" that contains fresh produce and their all time favorite snacks: Goldfish® crackers. Don't forget to hover over the photo below to click through to Walmart.com and purchase the items that you'd need for school season!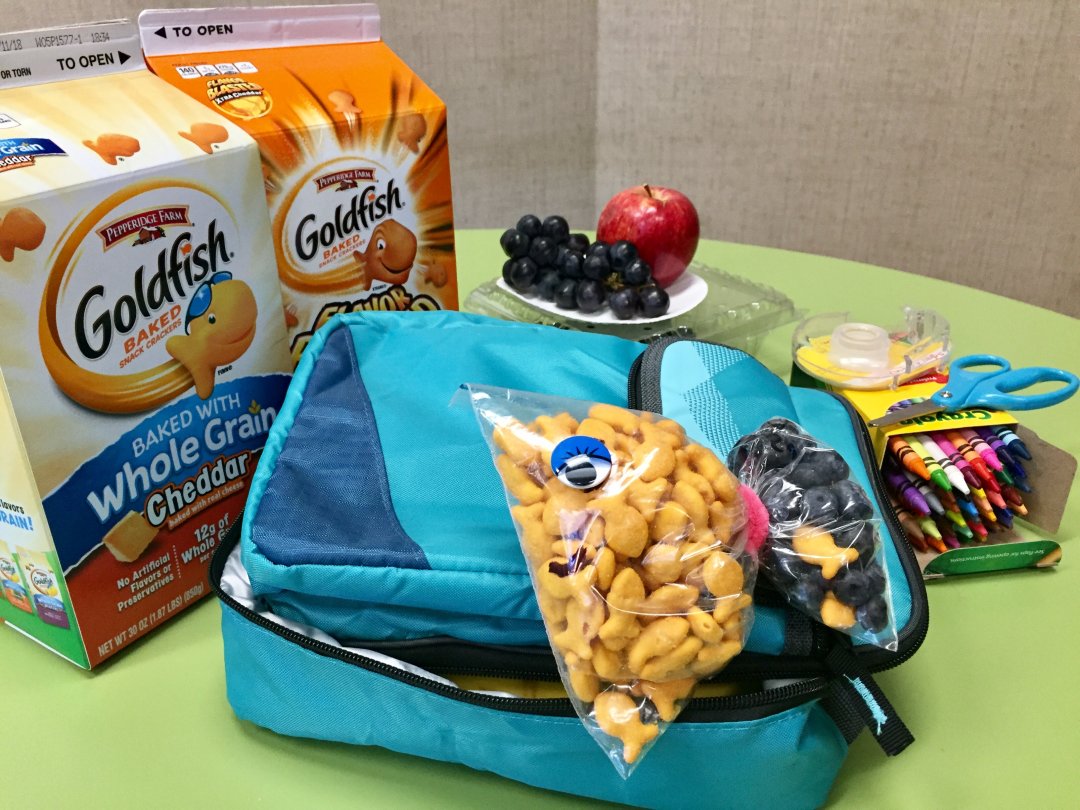 To purchase the produce featured in the image above, find a Walmart near you!
This is what you'd need:
Fruit or veggies

(I chose grapes and blueberries)

3×4 4mil clear reclosable plastic bag
Pipe cleaners assorted colors.
Permanent marker

Tutorial:
1.Fill the left side of the reclosable plastic bag with Goldfish® crackers.
2. Tie it with a pipe cleaner.
3. For the butterfly, make sure that the other half of the reclosable plastic bag is filled with small pieces of fruits or veggies. Then add the antennas… and voilá! Super easy, right?
If you decide to make the shape of a fish, you'd need to fill the right side with less fruit. Don't forget to add this fun sticker as a special touch!  It's a great way to add a personalized message to your child. You can print yours here.
School mornings can be hectic so this idea for your kid's lunchbox is perfect since it's super easy to make. Plus, you can't beat the rollback pricing of $5.98 on bulk Goldfish® crackers at Walmart! For more fun ideas with visit them on Instagram and Twitter.
The Snack That Smiles Back®
Get more back to school inspiration with Goldfish® crackers here.
Wishing you and your children a great school year!   
Do you have a creative way to pack a lunch box full of smiles and snacks for your children?

Title:
How To Pack a Smile In Your Kid's Lunch
Last Updated:
August 16, 2017